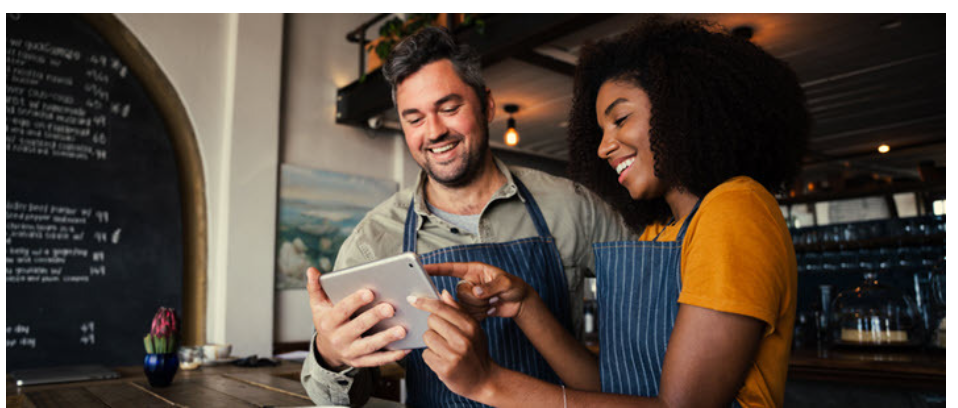 Tools and Strategies for Supporting Small Businesses – ADP
Supporting small businesses amid economic uncertainties, continued talent attraction and retention challenges and supply chain issues requires increasing attention and strategy.
Together, these trends can create some of the toughest stressors a small-business leader will ever face. But that doesn't mean they don't have reason to be optimistic.
Here's a closer look at some of the specific problems small-business owners may have to deal with and some of the strategies that may be effective in supporting small businesses even when challenges abound.
Maintaining momentum around recruiting and retention
Finding qualified talent is consistently a top challenge for small businesses with under 50 employees, according to results from a recent ADP client survey. Additionally, companies with 50-499 employees rate employee retention as a secondary challenge. Fortunately, there are effective strategies to navigate both of these challenges — often at the same time.
For many small-business employers, the time and energy required for recruiting can be overwhelming. It can also disrupt operations as operations of this size may not have a dedicated HR professional on staff. The key is using the right tools to help streamline recruiting efforts, reach more qualified candidates, see how your pay scale compares to competitors. With their newfound free time, owners and managers can devote more energy instead to reviewing applications and interviewing candidates.
Small-business success often relies on the right combination of tools. Platinum Hair Salon, a full-service hair salon in West Chester, Pennsylvania, leveraged ADP and ZipRecruiter® to ease the burdens of an outdated recruiting process and attract top talent.
For Adapt Kitchen and Juice Bar in Wrightsville Beach, North Carolina, staffing a new business while hiring for seasonal positions was a big challenge. "We've had to hire a lot of people in our first year, and we also make a lot of seasonal hires," say owners Chris Curry and Elie Tilghman. Using tools made for small businesses, they manage payroll, insurance, taxes and other back-office tasks smoothly and efficiently, freeing up time and energy to focus on growing the business and serving customers.
To help employees get information quickly, Platinum Hair Salon uses self-service tools on the ADP mobile app so employees don't have to wait for answers to questions about their paychecks or tax documents – such access can help with employee retention.
Other strategies to bolster both employee attraction and retention are offering flexible schedules, flexible wage payment options, employee discount programs, and employee benefits like retirement plans and insurance.
Business owners may also consider offering special bonuses based on performance as another retention tool. These have the advantage of being a one-time expense versus increasing base wages and could therefore help with labor cost management.
Automating and streamlining manual processes
Small-business owners typically have to wear a lot of hats: staff manager, customer service representative, HR professional, marketing director and more. Anything that streamlines labor management and saves time is likely to benefit the business.
Dinner Belle, a meal delivery service in Nashville, Tennessee, is one such business. Owner Laura Axelson struggled with the cumbersome manual process of tracking hours and writing payroll checks for her staff of 10 until migrating to ADP's solutions, which allow employees to clock in and out on their own to speed up payroll.
"I spend about 10 minutes every other week on payroll now," Axelson says.
Focusing on growth amid an economic downturn
Changes in the economic landscape can have a sharp impact on small businesses. Despite an economic downturn, many small businesses can experience significant growth — and often at a rapid pace. This can require hiring many new employees in a short period of time, adding to the burdens of recruiting and onboarding.
Ross Brewing Company in Monmouth County, New Jersey, faced this exact challenge after opening in 2021 and growing from just three employees to 40. The brewery's event manager Donna Burns took on the responsibility of the company's HR function despite having no prior experience in the role. Early on, it was clear they needed payroll and HR solutions that were user-friendly and saved time to support the new startup during this rapid growth period and beyond.
"ADP RUN has been very user-friendly for someone like me, who is not particularly well-versed in a lot of these things," notes Burns.
Small businesses support the economy
There is little room for missteps in running a small business, as most owners are well aware. Successful small-business leaders need to understand and be educated about their business needs — particularly the areas of friction that can be alleviated with the right technology. The good news is that small businesses across industries face many of the same challenges, and there are proven strategies for overcoming them, continuing to grow, building a productive staff and delivering exceptional customer service.
This story originally published on HR Tip of the Week – a blog providing practical information on hiring, benefits, pay, and more – by ADP®.
Learn more about how ADP's small business expertise and easy-to-use tools can simplify payroll & HR HERE
Resource: Tools and Strategies for Supporting Small Businesses